So, let me make just one thing clear...
I'm not a huge country music fan.
I do have favorite songs and artists (that I'm going to share in this post :), but I'm not a regular, glued-to-the-radio country music listener.
Okay...got that? :D
And now, for my Top 5 Fav. Country Singers...
Starting off...
#1...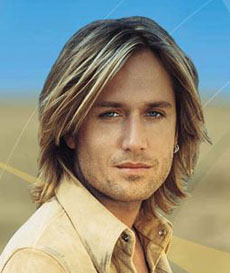 Keith Urban
Amazing voice, amazing guitar, amazing (and ridiculously sweet!! :) songs! Def. #1 fave...
really wish he was a Christian, though...that would make me like him all the more!!
I really like his hair :)
oh, and he can play a mean guitar!!
haha I like how his jeans have a smudge of dirt on them ;)
don't like Nicole Kidman, but...they are happily married and I'm happy for both of them :)
One of my favorite songs by him...
Though it is kinda hard to sing this...being a girl ;)
#2 can only be...
Josh Turner
:)
He is just SO cool!! A GREAT musician and his songs are so catchy and cute.
There's a very good chance that Josh is a believer...he hasn't outright admitted it, though.
He has AMAZING eyes...c'mon, people, admit it!
His family is so cute!! His wife is beautiful, too.
And one of my favorite songs by him...
This video makes me laugh :D

#3 stand is taken by...

Brad Paisley
I love his smile :) And he ALWAYS wears a cowboy hat...good job, Brad!
Okay, so Brad isn't a Christian...I know I seem to keep saying that with each of these artists, but I just want to be sure that you guys know that I'm not totally recommending them and ALL of their songs. Please view and listen to them with discernment. :)
He plays AMAZING guitar!! (nice color there, too!)
He and his wife are adorable!!
And his songs are always touching and sweet...or make you want to start dancing :)
This one is so cute!
Craig Morgan
Okay, so what is up with country singers having such INCREDIBLE eyes?! haha
Okay, most likely Craig is a Christian, so...yeah :)
Okay, this picture is so cool! I love that door!
Aw, and he and his wife are adorable :)
They have like...5 kiddos too! Aw!
Oh, and here's a really neat article by him...from CBN.
http://www.cbn.com/cbnmusic/artists/craig-morgan.aspx
And one of my favorite's by him...
and
#5...
okay, before people start leaving any nasty comments about 'how can a Christian like Taylor Swift??', let me just say 1 thing...
I don't 'worship' her and her music...or anything CLOSE to that.
Christians like a lot of different music and (like I said earlier on in this post), not all these singers are ones that I totally recommend you listening to. They have their good and...questionable songs. Taylor is one of those. :)
If you'd like a lengthier post about this subject, comment and let me know. I'd be more than happy to :)
I think this pic is really cool!
Okay, I have more than one favorite by Taylor, but I'm gonna have to be safe and pick just one of my top three... :)
I *do* wish her clothes were a little more decent in this video, but...*SIGH* I LOVE this song!! :) I love playing it on the piano too ;)
Okay, so...ready for comments?? Start 'em coming!
*hugs*